Welcome to Children's Palace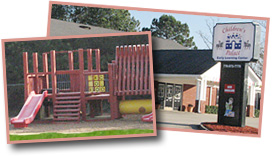 Children's Palace Early Learning Center is dedicated to providing affordable Child Care for the children of our community (North Georgia), which meets the highest nationally recognized standards. Qualified staff provides an educational and developmentally appropriate program in a nurturing environment that embraces diversity. It is our priority to work in partnership with families to help children reach their fullest potential.
We cater to children ages birth to 12 years old, providing everything from nutritious meals to after school pick-up. Our goal is to aid in the development of positive self esteem by providing children with essential learning skills to enhance their education.
We offer a comprehensive academic program including Spanish and Sign Language. A wide variety of learning materials for small muscle development and problem solving skills are available, as well as play equipment for large muscle development. Special field trips are planned as an extension of learning outside the classroom.